GLOBAL SOFTWARE OUTSOURCING SERVICES
YOUR GLOBE IT PARTNER
Businesses go through a number of phases during their lifetime, the initial startup and customer conversion can bring some growing pains in the IT world. Using an outsourced development team reduces the overhead, administration costs, and pain of short-term but frequent engagements. It frees you up to focus on building and strengthening your businesses core while your outsourcing partner provides efficiencies in your non-core functions.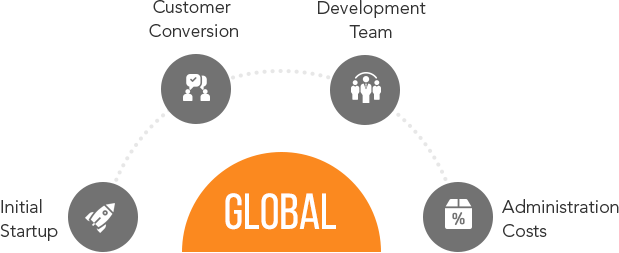 FIXED PRICE FIXED SCOPE
A classic IT consulting delivery model that guarantees delivery of pre-defined solution to the client in a specified time frame. Necessitates a firm change management protocol and a well developed needs identification from clients. Not recommended for projects where requirements are not stable or likely to remain static.
DEDICATED Team
To work utterly on a series of client's projects, a team of engineers is assigned. Reporting and management duties are shared between Xtecsoft and client. Allows easy integration between Xtecsoft's and client's in house infrastructure and 
software development
 team.
HYBRID TECHNOLOGY
At Xtecsoft as global IT consulting firm, dedicated core team pays attention to the on-going maintenance and 
software development
 tasks, demand spikes use additional staff either in Task & Management or fixed price basis.
TIME AND BUDGET CAP
The engagement is divided into fixed time phases with a fixed budget that should not be exceeded, the team works off the piled up task in an 
Agile manner
. This option limits client's exposure to each phase and offers a natural accountability mechanism. The vendor gets budget allocation of next phase if client is satisfied with current deliverables.
LOW COST BUT HIGH QUALITY
Xtecsoft is a firm from Pakistan which is a 4th largest software outsourcing country in the word. We have equivalent good resources here in Pakistan but in relatively lower prices then other countries. Xtecsoft invest a lot in training software resource to provide as good software quality like you get elsewhere.
CLIENTS FROM 8+ COUNTRIES
We have been working with many clients across globe including United States, United Kingdom, France, Canada and New Zealand. Our exposure with clients from different countries gives us unique culture to become a successful international software outsourcing company.