MEET THE FUTURE OF MOBILE DEVELOPMENT
LOWER COST & EFFECTIVE APP DEVELOPMENT
Hybrid application give you a hard time if you don't develop it right. Also we know hybrid development is not a complete solution yet for many app development cases. We know exactly where it fits today. Our team's deep expertise in hybrid technologies can help organizations lower cost of development all the while leveraging modern app development with a smooth UX. We offer faster time to market ensuring that you do not miss out on interesting and timely opportunities. Get the best of native features for your application and enrich your customer experience. Xtecsoft approach makes it easier to maintain and deploy upgrades, essentially boosting productivity all around.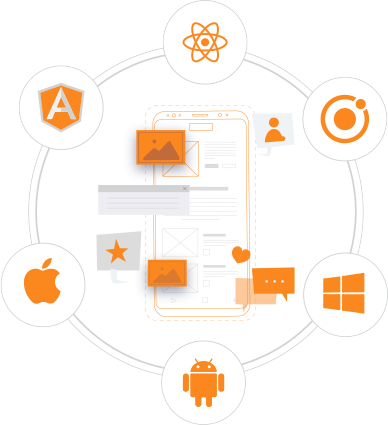 CLOUD-FIRST APP DEVELOPMENT
Xtecsoft delivers hybrid mobile app development solutions that are engineered from the ground up to be deployed to a cloud based environment and provides out of the box security, resiliency, scalability and availability inherent to cloud providers.
50% LOWER COST
Hybrid app development can swing his sword and cut up to 50% cost across platform. In hybrid development, certain hybrid
mobile app
frameworks are used which takes less effort and time from developers side. Developed application can be provided in any
mobile app
store which saves a lot of money and time as well.
90% CODE REUSABILITY
With some native
mobile app
framework like
Xamarin Forms
can give code reuse up to 90%. Hybrid technologies now a days are getting more mature then ever before. If your decision is to hire a professional for cross platform app development, we are here to help you with the resources at any time.
TECHNOLOGY
Our
mobile application
team can help you get the most out of Hybrid App Development along with advanced hybrid frameworks such as Xamarin, Sencha, Apache Cordova, Ionic & Native Script to develop scalable and robust Hybrid
mobile applications
.
INTEGRATION OF MOBILE APP WITH EXISTING ENTERPRISE
With emerging of new technology systems Enterprise cover more ground than ever before. New Enterprise Products use
mobile apps
to deliver complete business solutions. this is different than regular app development. Hire the experts who understand that.
FOCUS ON QUALITY
All
mobile apps
quality assurance functions are handled by a QA department whose sole mission is the quality of your app. Independence from the development team guarantees that you always get correct understanding of the quality.